Our Story
Our story begins in the early 1990's with 'The Gang Of Four' - the owners of five newly-planted vineyards in Bannockburn. Upon a handshake they decided to work together to produce wine under one label. This handshake bound the owners of Molyneux, Mansons Farm, Verboeket Estate and Full Circle until 2004 when Mt Difficulty Wines Ltd was officially formed, and the majority of the individual vineyards passed into the ownership of the company. The hardest part for the Gang of Four was in choosing a name for the label.
Our first vintage was produced in 1998 and was a Pinot Noir and Chardonnay, created under the Mt Difficulty label. Prior to this, fruit had been sold to Gibbston Valley or Chard Farm. Matt Dicey came on board to help build Mt Difficulty a winery in 1998, and stayed on as head winemaker. In 2018 he completed his 20th vintage with us, expanding to aromatic white varieties and single vineyard expressions, yet always retaining Mt Difficulty's signature style.
Today we are comprised of many vineyards, spanning Central Otago from Gibbston, to Lowburn Valley, to Bendigo, with our home still under the mountain at Bannockburn. Central Otago  provides New Zealand's only 'continental' style climate combined with unique soils ideally suited for growing Pinot Noir, Chardonnay, Riesling, Sauvignon Blanc and Pinot Gris. Yet we continue to push the limits of what we are capable of, with experimental plantings of Chenin Blanc and Syrah.
What's in a name?
W.G. Rees, one of the original settlers in the Wakitipu Basin, employed a party of six men as drovers to bring a flock of 3000 sheep from Oamaru on the east coast of the South Island. This was an arduous undertaking with many rivers and a number of mountain passes to traverse.  Crossing the Cairnmuir Range to avoid the Cromwell Gorge, they reached the Kawarau river, but found it impossible to get the sheep up the Kawarau Gorge – the gap between the bluff and the river was too narrow.
The mountain above this bluff they called Mt Difficulty.
Our second label is named after another colourful character, Roaring Meg.
The name is widely used in the region from power stations, to rivers, such was the impact of the original name-bearer Meg. The colourful story of Roaring Meg comes from Central Otago's pioneering past. Discovery of gold in the 1860's attracted many young men to Central Otago in search of their fortune. Following them came a number of enterprising young women equally keen to share in the spoils. Legend has it that Meg was one such lady; a high spirited, fun-loving young thing with an eye for opportunity.
Robert Gilkison, lawyer and historian wrote: "It used to be generally told in Cromwell that an early party of diggers took with them two girls from a dancing saloon. When they reached the first large stream they carried the lasses across, and one made so much fuss that they called it after her, 'Roaring Meg', while the other was particularly calm and peaceful and the next stream was called 'Gentle Annie' after her."
Mt Difficulty Label
Started in 1998 with a very small production of Pinot Noir and Chardonnay. Prior to this the Gang sold their grapes to either Gibbston Valley or Chard Farm. The Air New Zealand wine awards in 1999 put Mt Difficulty on the map, with our 1998 Pinot Noir winning a gold medal and the Chardonnay, silver.

As a result of our early planting in 1998, we now own some of the oldest vineyards in Bannockburn. This vine age gives our wines, particularly the Pinot Noirs, extra complexity and concentration. The Bannockburn area is internationally recognised as one of the few places in the world outside Burgundy where the pernickety Pinot Noir variety has found a home. Parts of New Zealand and cooler areas on the western seaboard of the United States are the only other regions where Pinot Noir seems to truly flourish.

The unique microclimate of the Bannockburn area is partially created by the presence of Mount Difficulty which overlooks the southern Cromwell basin. Mount Difficulty is integral in providing low rainfall and humidity for the region. Here at Bannockburn, we enjoy hot summers, a large diurnal temperature variation and long cool autumns; conditions which bring the best out of the Pinot Noir grapes. These conditions, along with soils which are ideal for viticulture, provide an excellent basis not only for Pinot Noir, but also for Pinot Gris, Riesling, and Chardonnay. The soils are a mix of clay and gravels, but all feature a high pH level; grapes produce their best wines on sweet soils.

In 1999 Matt Dicey came on board as winemaker, and he made the 1999 and 2000 vintage wines at Longburn Winery in Cromwell's budding industrial area. In 1999 the range was increased to include Pinot Gris and Sauvignon Blanc; while Gewürztraminer and Riesling were added in 2000. More recently the Mt Difficulty Chardonnay vineyards in Bannockburn have been replaced with other vines, including Chenin Blanc, as the Chardonnay found a better home in our Lowburn Valley vineyards

The vintage release in October 2001 marked a progression for Mt Difficulty Wines, with several Single Vineyard wines being seen for the first time. The 2001 white wines included two later-pick Rieslings and a late pick Pinot Gris, plus two Single Vineyard Pinot Noirs from the 2000 vintage. The philosophy of Single Vineyard wines is to display the unique characteristics that are particular to their site. With such a mixture of soils, microclimates and grape clones the difference in the wines from each vineyard site is quite noticeable and significant.
Roaring Meg Label
The next major change happened in 2004, when our second label Roaring Meg was launched. With a harvest providing an abundance of fruit, the opportunity was there to also try a different style from our Mt Difficulty Wine. The first release consisted of a Pinot Noir from the 2003 vintage, with Pinot Gris and Sauvignon Blanc following on a few years later. The fruit driven, early drinking style of the Roaring Meg wines struck a chord with the public and the label has been a mainstay at Mt Difficulty ever since.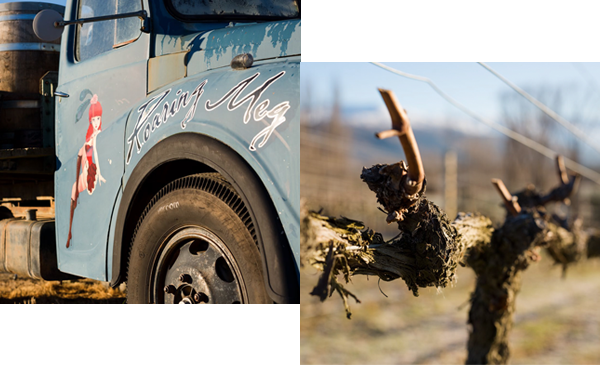 Our Home Site
Today you can visit us at our world class restaurant and Cellar Door and enjoy spectacular panorama views of Bannockburn and the Cromwell Basin.

But it wasn't always this way. After several years at our first winery, we built a new winery among the vines on Felton Road in late 2000. This new winery was specially designed to produce quality Pinot Noir but included separate facilities for other varieties and specifically, a barrel hall. The building included an on-site Cellar Door. But as Mt Difficulty became better known, the small Cellar Door outgrew its premises in the winery and a stunning new building was built high above the winery on Templars Hill. This building opened in February 2003 and visitors were able, for the first time, to enjoy a glass of wine over a light platter, while marvelling at the views.

We now welcome visitors 359 days of the year!
OUR PEOPLE
It all began in the early 1990's, when the owners of five newly-planted vineyards in Bannockburn shook hands and decided to work together to produce wine under one label, Mt Difficulty. The agreement between the original "Gang of Four" was bound only by a gentlemen's handshake, and remained in effect until 2004 when Mt Difficulty Wines Ltd was formed, and the majority of the individual vineyards passed into the ownership of the company. In 2021 Greg Lane joined as Chief Winemaker to continue the story of Mt Difficulty, who has long admired the wines of Mt Difficulty and indeed new world Pinot Noir.
CHIEF WINEMAKER
A South Australian local, Greg grew up surrounded by wine culture from day dot and earned a Bachelor of Oenology from the University of Adelaide with First Class Honours. From there he honed his craft at Shaw and Smith in Adelaide, France, Italy and the United States before being drawn back to Marlborough to take up the reigns at Grove Mill. Greg has most recently been the winemaker at Central Otago winery, Amisfield, before becoming Chief Winemaker at Mt Difficulty in 2021.

Highly regarded amongst the Winemaking community, Greg was named New Zealand Young Winemaker of the Year in 2018 and is keen to continue establishing Mt Difficulty wines as true benchmarks of Central Otago, and indeed new world Pinot Noir.

When off duty, Greg loves cooking, tramping and fishing around New Zealand.
ASSISTANT WINEMAKER
Margot has been an important part of our Mt Difficulty Winery team for the last 3 years, stepping up to become our Assistant Winemaker in 2021. She has a wealth of experience in the wine industry, having worked vintages in New Zealand and around the world, including three years in France. She is driven by a continual quest to learn and loves winemaking for its continual teachings. ⠀
⠀
Outside of winemaking, she loves to immerse herself in great food and wine, getting outdoors to hike and bike around Central Otago.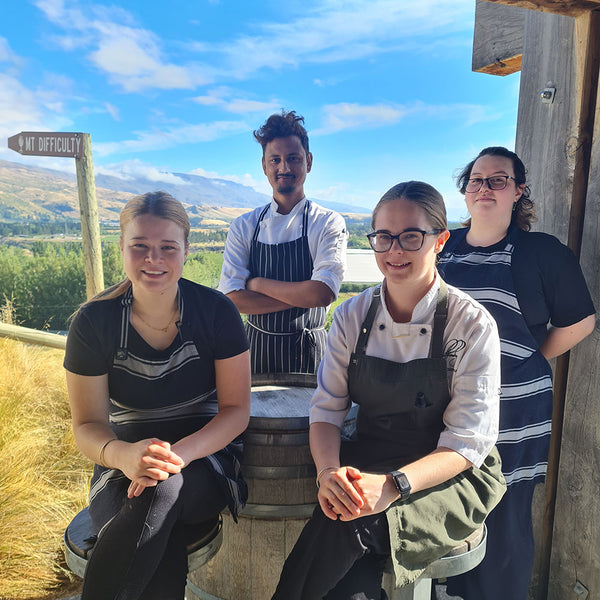 CELLAR DOOR & KITCHEN TEAM
Delivering our world-class hospitality to you is our incredible Cellar Door team led by Restaurant Manager Claire Kendrick. With a menu that showcases our fresh local produce from around Central Otago, our passionate team can't wait for you to experience Mt Difficulty here in Bannockburn.